Full Throttle Car Sale Event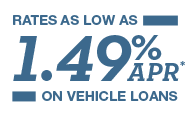 If you're in the market for a new or used vehicle, Innovations is offering a rate as low as 1.49% APR* for a limited time to make your search your reality.
Join us April 22nd – 24th from 9 a.m. to 6 p.m. at the Full Throttle Car Sale Event, located at the Panama City Mall. You can shop multiple dealers with hundreds of vehicles to find that perfect deal.
Plus, working with a local financial institution, like Innovations, keeps the process easy for you with great rates, multiple term options and a hassle-free application process.
Don't wait! Get the vehicle loan pre-approval process started with us. Then shop the event and go full throttle with the negotiating power of having cash in hand.
Act quickly, this special rate is only available April 19th – April 30th!
To get pre-approved before the sale, apply online, give us a call at 850.233.4400 or stop by any branch.
*
APR = Annual Percentage Rate. Limited-time offer with a floor of 1.49% APR. Existing loans at Innovations FCU are not eligible. Applicant must be an Innovations FCU member in good standing and meet all loan requirements. Loan decisions are based on applicant creditworthiness. Innovations FCU reserves the right to terminate this promotion at any time without notice. Offer will mirror existing payoff terms except for monthly payment amount.